Dear Exhibitor
Welcome to the South West Growers Show 2019 ; thank you for choosing to exhibit with us this year.
In order to make your participation in the exhibition as smooth and lucrative as possible, we have compiled this Exhibitor Manual to assist you. It contains essential information on the event, frequently asked questions, tips on public relations and marketing activity as well as health and safety details and a risk assessment form.
 Please click the buttons to the right to download your exhibitor manual 2019
Download Exhibitor Manual
Download Exhibitor Manual
Please read this manual carefully and return all forms/information by their due dates.
This year all of the required forms are available to complete online through the 'Exhibitor Resources' section on our website. Through these pages you will be able to register your exhibitors, download our press updates, adverts, copies of this manual, forms and other useful information and documents.
We have also created some flyers that you can send out to your customers inviting them to visit you at the Show which can also be downloaded from the Exhibitor Resources section.
Should you have any queries or require any further information please do not hesitate to contact us. We look forward to seeing you at the show!
Show Timetable
Tuesday 1st October
Exhibition build up access: 12:00 – 19:00 hrs
Wednesday 2nd October
Exhibitor Access: 07:30 – 08:30 hrs
Stands to be completed: 08:30 hrs
Show open: 09:00 – 16:00 hrs
Breakdown: 16:00 hrs
Floor Plan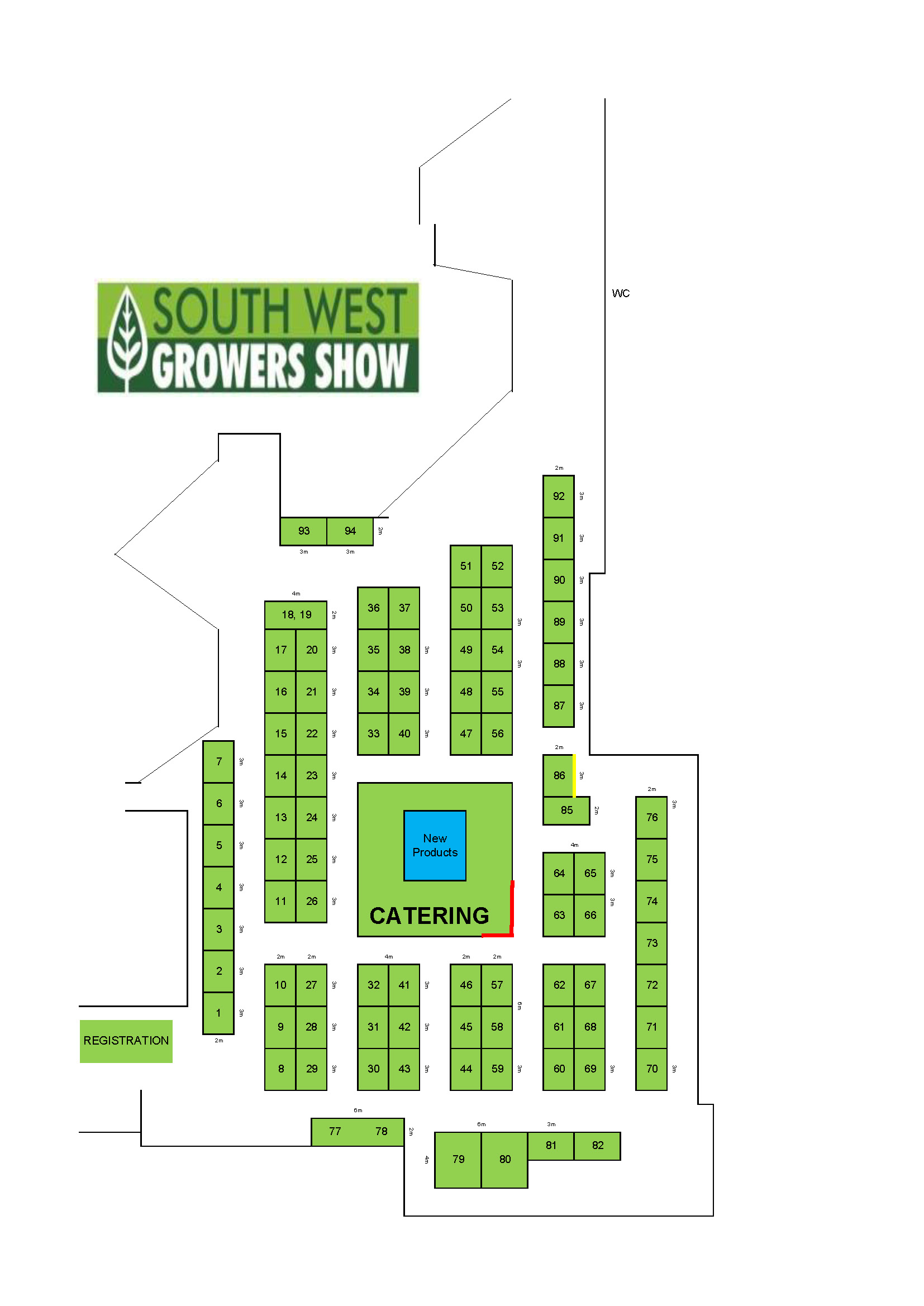 Introduction
Build up
Exhibitors will have access from 12:00 until 19:00 on Tuesday 1st October.
There is direct access for lorries and vans into the main display area from car parks and high roller doors (measuring 4.57m high by 4.26m wide) to ensure easy loading/unloading.
Unfortunately, the venue does not have a forklift truck available for deliveries so please make sure you have the relevant equipment for safely loading/unloading equipment.
Please ensure that your stand is completed, clean and in good order by no later than 08:30am on Wednesday 3rd October. Your stand should be contained within your carpeted area and no items should encroach on the aisles.
Deliveries
Should you wish to send any items/promotional materials (within reason) by courier in advance please clearly mark your packages 'South West Growers Show' together with your company name and/or stand number and send them to: The Matford Centre, Exeter, Devon, EX2 8FD.
Please ensure that packages arrive no earlier than Friday 27th September.
During the Show
Please ensure that you display your goods within your allocated space – marked with your carpet – so that they do not obstruct the light, impede the view along the open spaces or gangways, or may cause inconvenience to other Exhibitors.
Breakdown
Breakdown will commence at 4:15 PM on Wednesday 2nd October to ensure that all members of the public have left the exhibition hall.
Please be advised that no breakdown and/or removal of goods or stands will be permitted before this time.
Collections
Goods to be returned must be collected no later than 7pm on Wednesday 2nd October. If this is not possible please advise us in advance so that we can make alternative arrangements.
We cannot guarantee that packages left after this time will be retained by the venue. You must ensure all packages are clearly addressed for collection.
Please be advised that neither the South West Growers Show nor the Matford Centre will accept any responsibility for any items left unattended.
Your Package
Exhibitor Badges
Please advise us of ALL staff members who will be attending the Show as Exhibitors before Monday 23rd September or, if you would prefer, you can register your Exhibitors yourself using our online system in the Exhibitor Resources section.
Your badges will be placed on your stand prior to the show opening and must be worn at all times.
Carpet
All stands will be carpeted at no additional cost.
Electrics
Please be aware that unless you have pre-ordered electricity there will not be any power on your stand. If you haven't already ordered electricity and now require a socket, please let us know as soon as possible. If you are unsure of whether you have already ordered, this will be detailed on your booking form.
Stand & Name Board (Shell scheme only)
If you have chosen the Shell Scheme option your stand walls are 2.4 metre high panels covered in tweed material, which is Velcro compatible. Please note no holes may be drilled through the panels.
Name boards are provided by AIM Exhibitions Ltd in a standard style in block capital. Company logos cannot be included. The name boards are 150mm deep and are fixed to a 300mm nylon fascia.
Catering
Included in your stand hire (per 3m x 2m stand)
2 x breakfast vouchers
2 x lunch vouchers 6 x drinks vouchers
The vouchers will be placed on your stand together with your exhibitor badges before the show opens.
Please note that vouchers are only valid for use on Wednesday 2nd October and can only be exchanged for the goods/items as specified on the voucher.
If you require any additional catering there is a cafe on site that serves both hot and cold food and drinks.
Health & Safety Regulations
Please be aware that all exhibitors must comply with the Health and Safety at Work Act 1974 and any regulations made thereunder.
Please ensure that your exhibit and all items remain within your allocated stand space as you may be asked to remove any items or exhibits that do not comply.
Please do not infringe on the aisles around your stands, any other public walkways or block any entrance/exits.
Fire Safety
There are permanent fire extinguishers and hoses sited within the hall. These must not be covered or obstructed at any time. Please take a moment to familiarise yourself with the building and the emergency exits.
Please be aware that smoking is strictly prohibited in the Matford Centre.
Insurance & Risk Assessment
Whilst we take every precaution to protect your property during the exhibition, we are not responsible for any loss or damage. You are also responsible for insuring against any legal liability incurred in respect of injury or damage to property belonging to third parties.
Please could you also complete and return a copy of the Risk Assessment form by no later than Friday 20th September together with a copy of your insurance certificate.
Car Parking
There is ample, free car parking on site.
The exhibitor's car park will be at the back of the building. You may leave vehicles in the car park overnight however please be aware that all vehicles and belongings left on site are left entirely at your own risk.
Cash Machine
There isn't a cash machine on site however there is a Barclays Bank and a large Sainsbury's supermarket with cash machines just a 5-minute drive from the venue.
Photocopying & Faxing
The Matford Centre offers photocopying and faxing. If you require either service during the show, please go to the Matford Centre Office.
Wi-Fi
Limited Wi-Fi is available throughout the building; a copy of the code will be included in your exhibitor pack.
First Aid/Medical Assistance
For minor medical assistance please report to the information point at the main entrance where a member of staff will assist you. In case of an emergency please call 999 or 112.
Getting to the Matford Centre
From M5 North
Exit Junction 30. Take 3rd exit at the roundabout onto A379 Exeter/Marsh Barton for 3 miles. At 3rd roundabout take last exit onto B3123 Marsh Barton/ Bad Homburg Way. Exit 1st left at next roundabout and The Matford Centre is 200 metres on left.
From A38 Plymouth
Exit at A379 for 1.7 miles. Take 2nd exit at the roundabout onto B3123 Bad Homburg way. Exit 1st left at next roundabout and The Matford Centre is 200 metres on left.
From A30 Cornwall
Exit A377 Exeter. Follow City A377 through first road junction. Turn right, signed Marsh Barton, and follow signs to Livestock Centre. The Matford Centre is adjacent to the Livestock Centre.
To and from the City Centre
Park and ride facilities on site offer a regular service to and from the top of South Street in the centre of Exeter, Monday to Saturday, every 8 to 10 minutes.
Accommodation
Exeter boasts a wealth of excellent hotels and guest houses to suit all budgets within a stone's throw of the Matford Centre
Visitor Registration Policy
We have a strict registration and entrance policy at the show to ensure that it remains a quality trade-only buying event. Registration is free, and all visitors will receive a badge at the show.
Visitors can book online via the website (www.swgs.co.uk), or by contacting the Admin office. Visitors who have not pre-registered will still be welcome to visit the show and will be registered on site as they arrive.
Please could you complete the online 'Company Information Form' to ensure that the details we have for you are 100% accurate.
Deadline for Show Guide copy is 13th September. After this time, if we have not received your form, your information may not be included in the show guide or a very simple entry may be made.
Tips on Exhibiting
Before the show
Make the most of the run up to the show – tell buyers why they should visit you and where you'll be and ensure the press are informed of new launches and special events. Set specific goals and measurable targets and ensure your staff know what these are.
Book hotels and plan travel arrangements early.
Stand design: consider the location of your stand (corner, mid aisle, number of open sides, which part of the stand do people see first on approach).
Remember to include a cupboard for bags, coats, orders, spare literature and rubbish.
Display and lighting: plan your stand display to ensure that all products are well lit and that the stand is not too cluttered.
Use props to give height to the display and keep literature and graphics clean and tidy.
At the show
Your stand staff should appear alert and approachable at all times, without being intrusive or overbearing. Make sure they know your company's objectives regarding the show and set them targets and rewards.
Create a buzz and media interest with:
Special events such demonstrations, competitions, sample tests
Special deals and discounts: offer free delivery on orders taken at the show, or free quantity of the newest ranges
• Freebies and giveaways are simple to organise and are always popular with visitors to a show. Pens, sweets, chocolates and drinks are low cost and will attract attention.
After the show
Follow up all new leads and orders immediately after the show to reaffirm to your customers how much you value their interest. Contact the press with an update on how your new products were received at the show, and how successful it was for you, plus ask if they need any further information or images for inclusion in their review issues. Debrief your team to ensure that all the feedback is shared, and any ideas or lessons learned are noted for next time.
Press
This section of the manual will help you to maximise the press coverage of your presence at the show and ensure full awareness of your new products and special events.
Contact the media
Send your information directly to your target trade press and on-line media. Many buyers use trade press previews to give them a taste of what will be at the show. You have more chance of seeing your product news if you include images. Have a good selection of images to send with your press release and on request. If appropriate, send samples of the new product as this will also get your press release noticed.
Tips on preparing press information
All news of your participation at the show should be sent to the media in the form of a press release.
Some simple tips on content of press releases:
Begin the release with a factual headline which gives a clear idea of the subject.
The opening paragraph should contain all the main points to grab the editors' attention – this will then be expanded through your news story.
When announcing a new range include a general desciption of the product stating hard facts such as colours, styles, materials, sizes, uses, features and benefits.
Do not use slang, jargon, opinion or claims.
Include a quote from your company spokesperson commenting on the significance of your story.
If you are a first-time exhibitor, say why you are participating at the show.
All releases should be typed in double-line spacing. One single A4 page should be sufficient and more than two pages is probably too long.
Special events
Why not plan something special to attract media interest and get buyers buzzing around your stand? For example:
Competitions and other incentives (discounts, freebies)
Press conference to announce any company news
Arrange for a celebrity to visit your stand
Demonstrations and sample sessions
Keep us informed
Let us know if you're having a good show – these stories and quotes can be used in post-show press releases.
And when it's all over…
Capitalise on new press contacts made at the show and supply journalists with any additional material they require for review features, such as additional photography (special events etc.) and news of business won.
Thank you for taking the time to read this Manual, should you have any queries or require any further information please do not hesitate to come back to us on 01579 350805 or by email swgs@kernock.co.uk
We look forward to seeing you at the Show!
PayPal Accepted


Most preferred way to pay online in the UK. Pay online without entering sensitive information.
© 2018 Kernock Park Plants Ltd. All rights reserved.
This web site is owned and operated by Kernock Park Plants Ltd. Company registration No. 03297350.
If you have any suggestions or comments or if you need to contact us, please email us on sales@kernock.co.uk.
VAT Registration Number 326 7561 45, Pillaton, Saltash, Cornwall, PL12 6RY, EU Plant/Quality Passport UK/EW 20268.
Prices exclude VAT (Charged at 20%) unless otherwise stated. Terms & Conds | Privacy Policy | Site Map | Powered by EBIZ Systems